Man riding Access System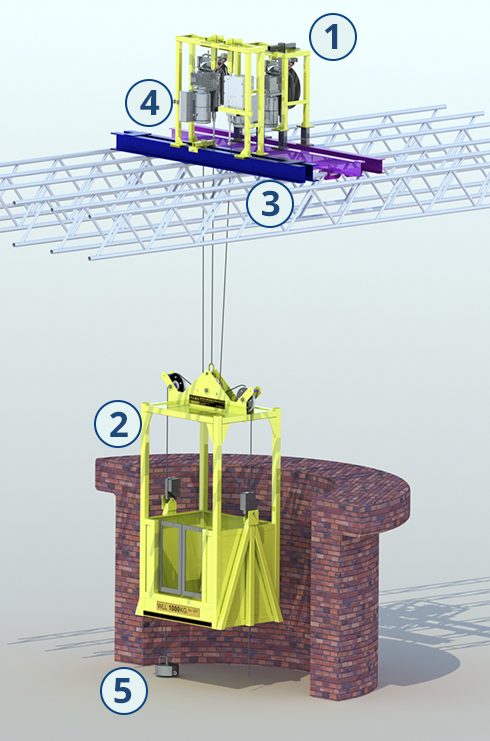 A large engineering firm won a bid to service and repair several underground airshafts that allow clean air to enter the train line in tunnels running through Balcombe and Sevenoaks.
RAMS were tasked with supplying safe, reliable and swift access equipment for up to two people into the air shafts, as well as a separate goods lifting winch assembly (1). This access equipment is to allow the site engineers to repair the mortar and cladding inside the shafts, which had deteriorated to such an extent that water ingress was beyond acceptable.
Our solution was to design a bespoke man riding cage (2), incorporating 3 separate ropes, diverted by 4 sheaves, with a modular headworks assembly that could be adjusted for each new air shaft. This system is not only modular, it is also fully serviceable, adaptable and fully certified.
The three rope design includes:
The main line to a Tractel Tirak X1030P man riding winch with built in auto reeler (3)
A semi-static line that passes from a backup Tirak X1030P winch, through a Blocstop secondary brake safety device on the cage, and to a dead weight at the bottom of the lift shaft (4)
A fixed safety line from an anchor point on the headworks, through another Blocstop that is secured to the floor of the shaft (5)
The advantages of such a design are:
A secondary winch to retrieve the workers in case of primary winch failure
Two secondary brakes, allowing for added security in case of winch/rope/Blocstop failure
Three rope design naturally resists twisting or spinning of the cage
This design has been used in over 11 shafts, and is available for hire, POI.