REID TDAVIT Shackled
Brand: Reid Lifting
Estimated lead time to dispatch is 2-3 weeks
Price on Application

Enquire below for a bespoke price.
Our TDAVIT is lightweight, portable, and can be custom designed and manufactured to specifically meet our customers' individual needs. Truly pioneering, it offers a lifting capacity of up to 500kg and 360° rotation under fingertip control.
Key Features
EN795:2012
ATEX Certified
Can support goods and personnel lifting;
Goods WLL of up to 500 kg
Personnel WLL of up to 250 kg
Can be operated and assembled by one person, no tools required
Can be rotated 360 degrees under full load using fingertip control
Designed with a universal kingpin suitable for all REID sockets,
Clean, anodised finish for increased corrosion resistance
A variety of attachments for a range of applications
Engineered designs and bespoke sections reduce weight, providing lightweight portability
Configurations
The TDAVIT is available in a range of configurations and can be customized in line with specific requirements (subject to WLL rating).
| | | | | |
| --- | --- | --- | --- | --- |
| Accreditations, Certifications & Standards | BEAM 1 | BEAM 2 | BEAM 3 | BEAM 4 |
| EN795:2012 | ✔ | ✔ | ✔ | ✘ |
| PD CEN / TS16415:2013 | ✔ | ✔ | ✔ | ✘ |
| ANSI Z359.18-17 | ✔ | ✘ | ✘ | ✘ |
| AS/NZS 5532:2013 | ✔ | ✔ | ✔ | ✘ |
| ATEX Certified [Zone 2] | ✔ | ✔ | ✔ | ✔ |
| Atex Certified [Zone 1] | Optional | Optional | Optional | Optional |
| IRATA | ✔ | ✔ | ✔ | ✘ |
Features & performance
| | | | | |
| --- | --- | --- | --- | --- |
| Accreditations, Certifications & Standards | BEAM 1 | BEAM 2 | BEAM 3 | BEAM 4 |
| EN795:2012 | ✔ | ✔ | ✔ | ✘ |
| PD CEN / TS16415:2013 | ✔ | ✔ | ✔ | ✘ |
| ANSI Z359.18-17 | ✔ | ✘ | ✘ | ✘ |
| AS/NZS 5532:2013 | ✔ | ✔ | ✔ | ✘ |
| ATEX Certified [Zone 2] | ✔ | ✔ | ✔ | ✔ |
| Atex Certified [Zone 1] | Optional | Optional | Optional | Optional |
| IRATA | ✔ | ✔ | ✔ | ✘ |
Capacity

BEAM 1
BEAM 2
BEAM 3
BEAM 4
Max Goods Lifting (kg)
500
500
375
300
Max Personnel Lifting (kg)
250
250
150
150
Fall Arest (Persons)
1
1
1
1
Dimensions

BEAM 1
BEAM 2
BEAM 3
BEAM 4
Maximum Reach (mm)
1000
1200
1600
2000
Maximum Height of Lift (mm)
2266
2342
2495
2647
| | | | | |
| --- | --- | --- | --- | --- |
| Socket Diameter | BEAM 1 | BEAM 2 | BEAM 3 | BEAM 4 |
| 65 mm | ✔ | ✔ | ✔ | ✔ |
| | | | | |
| --- | --- | --- | --- | --- |
| Socket Options | BEAM 1 | BEAM 2 | BEAM 3 | BEAM 4 |
| Top Mount | ✔ | ✔ | ✔ | ✔ |
| Flush mount | ✔ | ✔ | ✔ | ✔ |
| Side Mount | ✔ | ✔ | ✔ | ✔ |
| Bridge Mount | ✔ | ✔ | ✔ | ✔ |
| Pedestal | ✔ | ✔ | ✔ | ✔ |
| Extension Post | ✔ | ✔ | ✔ | ✔ |
| | | | | |
| --- | --- | --- | --- | --- |
| Optional Extras | BEAM 1 | BEAM 2 | BEAM 3 | BEAM 4 |
| Winch Capable | ✔ | ✔ | ✔ | ✔ |
Standard Features

BEAM 1
BEAM 2
BEAM 3
BEAM 4
Shackle Lifting Points
✔

✔

✔

✔

Component Weight < 25 kg
✔

✔

✔

✔

Finishes

BEAM 1
BEAM 2
BEAM 3
BEAM 4
Anodised
✔

✔

✔

✔

316SS Fixings
Optional
Optional

Optional

Optional

Marine Spec
Optional

Optional

Optional

Optional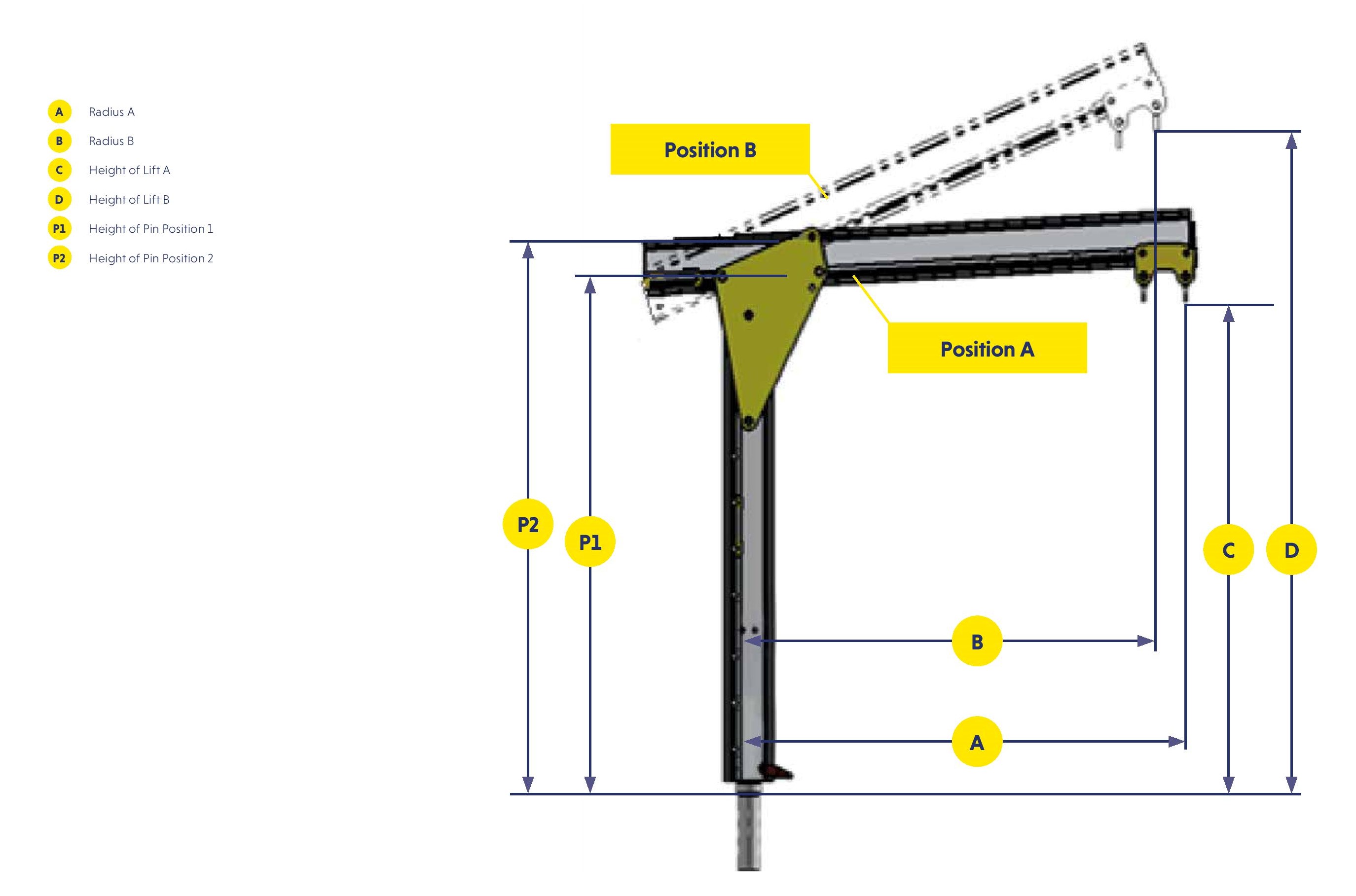 Beam Option - POSITION
1 - A
1 - B
2 - A
2 - B
3 - A
3 - B
4 - A
4 - B
RADIUS (mm)*
850
775
1050
960
1450
1328
1850
1700
WLL (kg)
500
500
375
300
WEIGHT (kg)
10
11
14
17
*Radii achieved at ≃ 75% WLL




| | | | | | | | | | | | |
| --- | --- | --- | --- | --- | --- | --- | --- | --- | --- | --- | --- |
| Column Option | A | B | A | B | A | B | A | B | Weight (kg) | P1 | P2 |
| 1 | 912 | 1224 | 912 | 1300 | 912 | 1453 | 912 | 1605 | 20 | 982 | 1081 |
| 2 | 1092 | 1404 | 1092 | 1480 | 1092 | 1633 | 1092 | 1785 | 21 | 1162 | 1261 |
| 3 | 1402 | 1714 | 1402 | 1790 | 1402 | 1943 | 1402 | 2095 | 23 | 1472 | 1571 |
| 4 | 1717 | 2029 | 1717 | 2105 | 1717 | 2258 | 1717 | 2410 | 25 | 1787 | 1886 |
| 5 | 2027 | 2339 | 2027 | 2415 | 2027 | 2568 | 2027 | 2720 | 28 | 2097 | 2196 |
Related Products