CM Lodestar Electric Chain Hoist - Hook Suspension
Brand: CM
Estimated lead time to dispatch is 2-3 days
Electric chain hoist, model CM Lodestar
110v, 230v & 400v
Capacities: 250 - 3000kg
The Lodestar hoist is a tough and durable electric chain hoist, designed to keep working in the most arduous applications. This hoist is recognised and proven within the hire industry as the number one hoist, where high duty, combined with long heights of lift are required. From hook suspension in the rental industry to trolley mounted in a factory production line, the Lodestar has a proven reputation as the solution for industrial strength lifting.
Standard operating voltage: 110v 1ph 50Hz, 230v 1ph 50Hz, and 400v 3ph 50Hz are all available ex-stock.
Standard operating temperature -100 to +650C
Features and Benefits
Tough lightweight aluminium alloy covers totally enclose the mechanical and electrical components providing protection and efficient heat dissipation. The design enables easy access for installation and service.
Adjustable upper and lower limit switches.
48v control, IP65 pendant as standard (Hoist is IP54).
Thermal overload protection as standard.
FEM classification 2m (40% duty - 24 minutes continuous use per hour).
Motor classification H4.
Excellent closed height dimensions.
A lifetime lubricated gearbox contributes to exceptional service and maintenance characteristics.
Load hook with axial bearing.
Ideal for long heights of lifts.
Large frame, single phase hoists are supplied with handles and 1mtr supply cable with Cee-Form plug.
| | | | | | | |
| --- | --- | --- | --- | --- | --- | --- |
| Model | Operating Voltage | Capacity (WLL) kg | Falls of Load Chain | Lifting Speed(s) m/min | Load Chain Depth x Pitch mm | Hoist Motor kW |
| C | 230v or 110v 1ph 50Hz | 250 | 1 | 8 | 6.3 x 18.9 | 0.37 |
| F | 230v or 110v 1ph 50Hz | 500 | 1 | 4 | 6.3 x 18.9 | 0.37 |
| J | 230v or 110v 1ph 50Hz | 500 | 1 | 8 | 7.9 x 21.7 | 0.75 |
| L | 230v or 110v 1ph 50Hz | 1000 | 1 | 4 | 7.9 x 21.7 | 0.75 |
| LL | 400v 3ph 50Hz | 1000 | 1 | 8 | 7.9 x 21.7 | 0.75 |
| LL2 | 400v 3ph 50Hz | 1000 | 1 | 8/2.5 | 7.9 x 21.7 | 0.75 |
| R | 230v or 110v 1ph 50Hz | 2000 | 2 | 2 | 7.9 x 21.7 | 0.75 |
| RR | 400v 3ph 50Hz | 2000 | 2 | 4 | 7.9 x 21.7 | 0.75 |
| RR2 | 400v 3ph 50Hz | 2000 | 2 | 4/1.3 | 7.9 x 21.7 | 0.75 |
| RT | 230v or 110v 1ph 50Hz | 3000 | 3 | 1.33 | 7.9 x 21.7 | 0.75 |
Chain Container Bag
Maximum length of lift (ft.)
Models A-AA-B-C-F-WB-WF
Models E-H-WH-WE
Models J, JJ, L, LL, WL, WJ
Models R, RR, WR
Model RT, RRT
Bag Size (in.)
Bag Height (in.)
Approx Weight (lbs.)
20
10
-
-
-
7.5 x 7.5
7
3
40
20
-
-
-
7.5 x 7.5

10
3
60
30
-
-
-
7.5 x 7.5

13
3
90
45
-
-
-
7.5 x 7.5

16
4
100
60
-
-
-
7.5 x 7.5

18
4
140
90
-
-
-
7.5 x 7.5

20
4
-
-
10
-
-
7.5 x 7.5

7
3
-
-
20
10
-
7.5 x 7.5

10
3
-
-
30
15
10
7.5 x 7.5

13
3
-
-
45
20
-
7.5 x 7.5

16
4
-
-
60
30
20
7.5 x 7.5

18
4
-
-
90
45
30
7.5 x 7.5

20
4
| | | | | | | |
| --- | --- | --- | --- | --- | --- | --- |
| Model | Operating Voltage | Capacity (WLL) kg | Falls of Load Chain | Lifting Speed(s) m/min | Load Chain Depth x Pitch mm | Hoist Motor kW |
| C | 230v or 110v 1ph 50Hz | 250 | 1 | 8 | 6.3 x 18.9 | 0.37 |
| F | 230v or 110v 1ph 50Hz | 500 | 1 | 4 | 6.3 x 18.9 | 0.37 |
| J | 230v or 110v 1ph 50Hz | 500 | 1 | 8 | 7.9 x 21.7 | 0.75 |
| L | 230v or 110v 1ph 50Hz | 1000 | 1 | 4 | 7.9 x 21.7 | 0.75 |
| LL | 400v 3ph 50Hz | 1000 | 1 | 8 | 7.9 x 21.7 | 0.75 |
| LL2 | 400v 3ph 50Hz | 1000 | 1 | 8/2.5 | 7.9 x 21.7 | 0.75 |
| R | 230v or 110v 1ph 50Hz | 2000 | 2 | 2 | 7.9 x 21.7 | 0.75 |
| RR | 400v 3ph 50Hz | 2000 | 2 | 4 | 7.9 x 21.7 | 0.75 |
| RR2 | 400v 3ph 50Hz | 2000 | 2 | 4/1.3 | 7.9 x 21.7 | 0.75 |
| RT | 230v or 110v 1ph 50Hz | 3000 | 3 | 1.33 | 7.9 x 21.7 | 0.75 |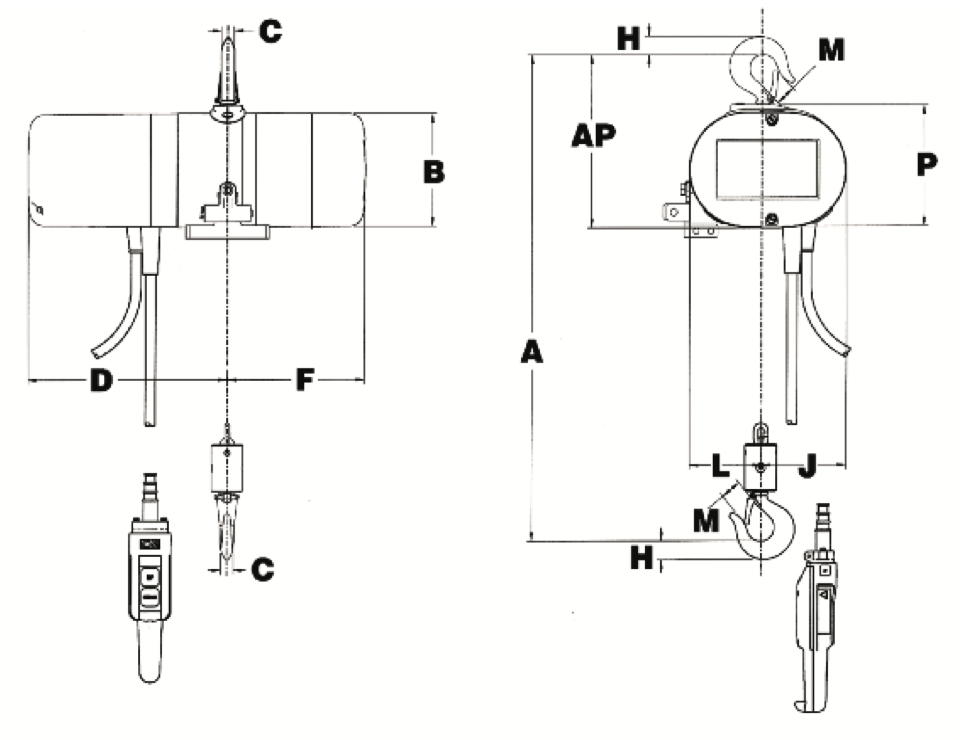 | | | | | |
| --- | --- | --- | --- | --- |
| Model | Lodestar 250 / 500 | Lodestar 500 / 1000 | Lodestar 2000 | Lodestar 3000 |
| Frame type | A, B, C, F and AA | J, L, JJ and LL | R, RR | RT |
| A, mm | 413 | 471 | 613 | 750 |
| B, mm | 156 | 194 | 194 | 194 |
| C, mm | 17 | 22 | 28 | 28 |
| D, mm | 279 | 241 | 241 | 241 |
| F, mm | 197 | 271 | 271 | 271 |
| H, mm | 25 | 30 | 38 | 38 |
| J, mm | 100 | 138 | 165 | 165 |
| L, mm | 122 | 184 | 157 | 157 |
| M, mm | 25 | 28 | 33 | 33 |
| P, mm | 168 | 198 | 198 | 198 |
| AP, mm | 235 | 271 | 284 | 319 |
Chain Container Bag
Maximum length of lift (ft.)
Models A-AA-B-C-F-WB-WF
Models E-H-WH-WE
Models J, JJ, L, LL, WL, WJ
Models R, RR, WR
Model RT, RRT
Bag Size (in.)
Bag Height (in.)
Approx Weight (lbs.)
20
10
-
-
-
7.5 x 7.5
7
3
40
20
-
-
-
7.5 x 7.5

10
3
60
30
-
-
-
7.5 x 7.5

13
3
90
45
-
-
-
7.5 x 7.5

16
4
100
60
-
-
-
7.5 x 7.5

18
4
140
90
-
-
-
7.5 x 7.5

20
4
-
-
10
-
-
7.5 x 7.5

7
3
-
-
20
10
-
7.5 x 7.5

10
3
-
-
30
15
10
7.5 x 7.5

13
3
-
-
45
20
-
7.5 x 7.5

16
4
-
-
60
30
20
7.5 x 7.5

18
4
-
-
90
45
30
7.5 x 7.5

20
4