LB Galvanised Wire Rope Winches
LB wire rope winches
Capacities: 150 - 1200kg (up to 900kg in stainless steel)
Originally developed as an off-road winch, the console-mounted winch model LB is used today for a variety of lifting and pulling applications. The LB is our best-selling range of winches designed for maximum versatility & efficiency.

Features:
Options include:
- free-wheeling device for a quick manual unrolling of the unloaded rope. - variable cranks
- stainless steel version for increased corrosion protection.
Very lightweight design.
Fitted with load pressure brake to prevent unintentional lowering of load.
High efficiency obtained by spur gears.
Column or base-mounting.
| | | | | | | | | |
| --- | --- | --- | --- | --- | --- | --- | --- | --- |
| Model | Capacity 1st layer kg | Capacity top layer kg | Rope diameter mm | Useable rope length 1st layer m | Useable rope length max. m | Lift per crank rotation mm | Required crank effort daN | Weight without rope kg |
| LB 150 VZ | 150 | 75 | 4* | 0.8 | 11 | 125 | 17 | 4.2 |
| LB 350 VZ | 350 | 170 | 4* | 1.8 | 20 | 125 | 25 | 4.8 |
| LB 650 VZ | 650 | 290 | 6* | 1 | 20 | 55 | 22 | 7.3 |
| LB 900 VZ/ARA | 900 | 400 | 7* | 0.8 | 14 | 58 | 24 | 10 |
| LB 1200 VZ/ARA | 1200 | 430 | 7** | 1 | 26 | 45 | 24 | 12.1 |
| | | | | | | | | |
| | | | | | | | | |
| --- | --- | --- | --- | --- | --- | --- | --- | --- |
| Model | Capacity 1st layer kg | Capacity top layer kg | Rope diameter mm | Useable rope length 1st layer m | Useable rope length max. m | Lift per crank rotation mm | Required crank effort daN | Weight without rope kg |
| LB 150 VZ | 150 | 75 | 4* | 0.8 | 11 | 125 | 17 | 4.2 |
| LB 350 VZ | 350 | 170 | 4* | 1.8 | 20 | 125 | 25 | 4.8 |
| LB 650 VZ | 650 | 290 | 6* | 1 | 20 | 55 | 22 | 7.3 |
| LB 900 VZ/ARA | 900 | 400 | 7* | 0.8 | 14 | 58 | 24 | 10 |
| LB 1200 VZ/ARA | 1200 | 430 | 7** | 1 | 26 | 45 | 24 | 12.1 |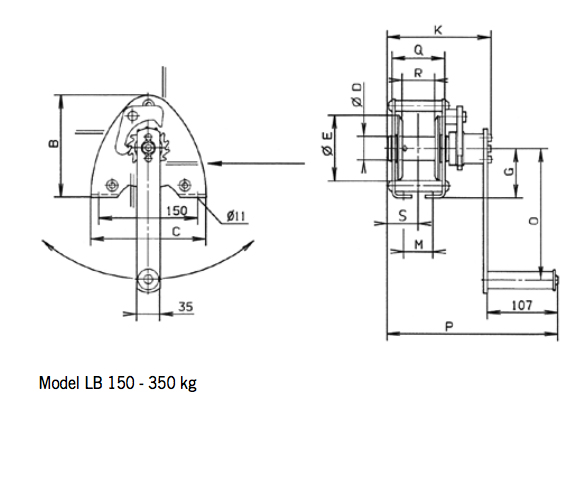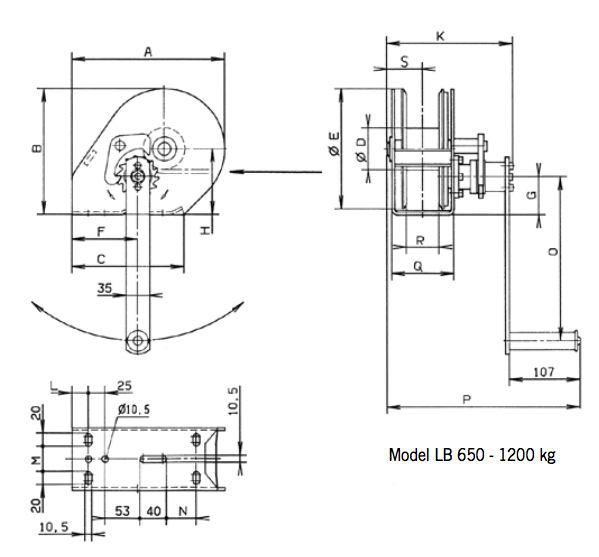 | | | | | | | | | |
| --- | --- | --- | --- | --- | --- | --- | --- | --- |
| Model | LB 150 VZ | LB 350 VZ | LB 650 VZ | LB 900 VZ/ LB 900 ARA | LB 1200 VZ/ LB 1200 ARA | LB 250 VA | LB 650 VA | LB 900 VA |
| A, mm | – | – | 232 | 232 | 273 | – | 232 | 273 |
| B, mm | 155 | 155 | 192 | 192 | 266 | 155 | 192 | 266 |
| C, mm | 175 | 175 | 210 | 210 | 240 | 175 | 210 | 240 |
| Ø D, mm | 36 | 36 | 63.5 | 63.5 | 63.5 | 36 | 63.5 | 63.5 |
| Ø E, mm | 100 | 100 | 183 | 183 | 255 | 100 | 183 | 255 |
| F, mm | – | – | 100 | 100 | 78 | – | 100 | 78 |
| G, mm | 75 | 75 | 58 | 58 | 75 | 75 | 58 | 75 |
| H, mm | – | – | 100 | 100 | 138 | – | 100 | 138 |
| K, mm | 159 | 189 | 192 | 192/226* | 192/226* | 191.5 | 190 | 190 |
| L, mm | – | – | 25 | 25 | 35 | – | 25 | 35 |
| M, mm | 45 | 75 | 38 | 38 | 30 | 75 | 38 | 30 |
| N, mm | – | – | – | – | 53 | – | – | 53 |
| O, mm | 200 | 320 | 250 | 320 | 320 | 320 | 250 | 250 |
| P, mm | 260 | 290 | 293 | 293/303* | 293/303* | 292.5 | 291 | 291 |
| Q, mm | 81 | 111 | 95 | 95 | 95 | 111 | 95 | 95 |
| R, mm | 50 | 80 | 50 | 50 | 50 | 80 | 50 | 50 |
| S, mm | 48 | 63 | 55 | 55 | 55 | 65.5 | 55 | 55 |
Related Products