REID 1000kg Aluminium Porta Gantry
Brand: Reid Lifting
Estimated lead time to dispatch is 2-3 Weeks
1000kg Aluminium Porta Gantry
Innovative, lightweight, portable, safe and very strong, the PORTA-GANTRY lifting system is the number one choice for organisations seeking safe, multiple location lifting solutions and a healthy return on investment. Its unique capabilities have proven to satisfy Finance, Operations, Health & Safety as well as users. Rope and Marine Services offer a range of configurations, lift-ratings and personnel lifting options, including the world's first WLL 5000kg (5 Tonne) capacity portable gantry.
Features:

EN795:2012 & ATEX Certified
Can support goods and personnel lifting; Goods WLL of up to 5000kg and personnel WLL of up to 2500kg
Suitable for up to 5 persons for fall protection applications
Beams and A-frames can be interchanged
Ergonomic 360° swivel-locking castors, as standard
Ease of assembly including height and span adjustment
Anodised for increased corrosion resistance
Engineered designs and bespoke sections reduce weight, providing lightweight portability
Corrosion resistant, anodised finish – easily cleaned and suitable for "clean room" applications.
Flat-packed for shipping & storage.


Trolley Options: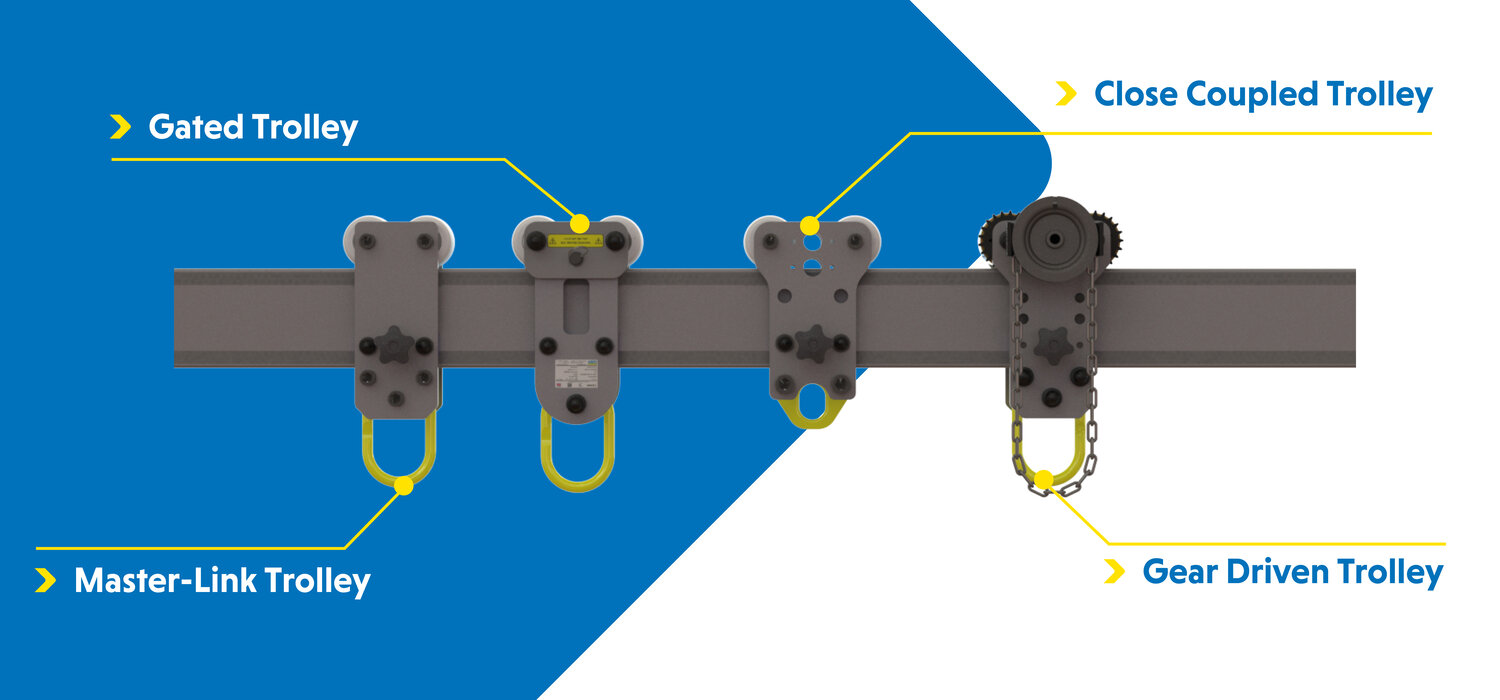 Capacity / Frame Size
Max height to
lifting eye (D Max)
Height increment (E)
Min height to
lifting eye (D Min)
Max height to
top of beam
(F)Max height to
top of roller (H Min)
Min height to
top of roller (H Max)
Width
A-Frame Weight (kg)
Trolley rollersize
Castor Dia.
1000kg / S
2355
5 x 150
1605
2675
2757
2007
1212
32
82
150
1000kg / M
2851
5 x 150
2101
3171
3253
2503
1429
42
82
150
1000kg / I
3188
5 x 200
2188
3499
3581
2581
1726
50
82
200
1000kg / T
4079
6 x 200
2879
4399
4481
3281
2011
56
82
200
1000kg / TC4
4527
6 x 200
3327
4847
4930
3730
2234
86
82
200
1000kg / TC3
5027
6 x 200
3827
5347
5430
4230
2557
91
82
200
1000kg / TC2
5527
8 x 200
3927
5848
5930
4330
2733
97
82
200
1000kg / TC1
5829
9 x 200
4029
6149
6231
4431
2733
102
82
200
Capacity / Frame Size
Max height to
lifting eye (D Max)
Height increment (E)
Min height to
lifting eye (D Min)
Max height to
top of beam
(F)Max height to
top of roller (H Min)
Min height to
top of roller (H Max)
Width
A-Frame Weight (kg)
Trolley rollersize
Castor Dia.
1000kg / S
2355
5 x 150
1605
2675
2757
2007
1212
32
82
150
1000kg / M
2851
5 x 150
2101
3171
3253
2503
1429
42
82
150
1000kg / I
3188
5 x 200
2188
3499
3581
2581
1726
50
82
200
1000kg / T
4079
6 x 200
2879
4399
4481
3281
2011
56
82
200
1000kg / TC4
4527
6 x 200
3327
4847
4930
3730
2234
86
82
200
1000kg / TC3
5027
6 x 200
3827
5347
5430
4230
2557
91
82
200
1000kg / TC2
5527
8 x 200
3927
5848
5930
4330
2733
97
82
200
1000kg / TC1
5829
9 x 200
4029
6149
6231
4431
2733
102
82
200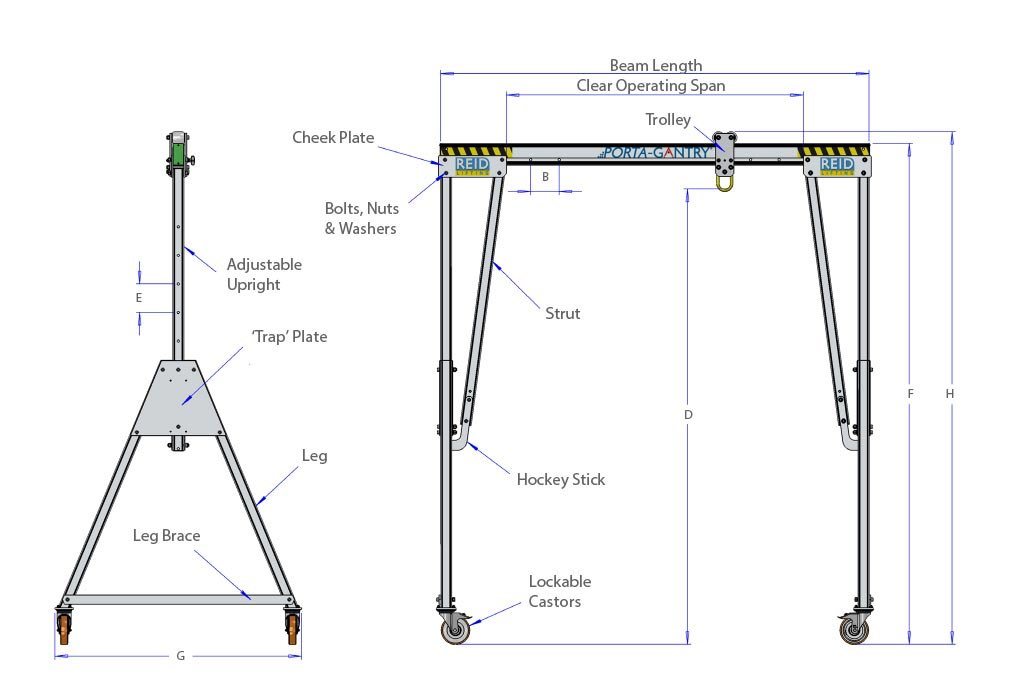 Related Products