YALE VSIII 'Medium Duty' Hand Chain Hoists | 250Kg - 10 Tonnes
Brand: Yale
Estimated lead time to dispatch is 1 Day
YALE Hand chain hoist model VSIII
Capacities: 20000 - 50000kg
The newly designed hand chain hoist VSIII is an innovative further development introduced by Yale. The improved hand chain guide prevents canting or jamming of the hand chain, leading to a smooth running of the chain. High quality bearings on side plates, gearbox and load chain sheave ensure smooth operation of load chain and drive pinion.
Optimised hand forces set standards for easy operation.
Features:
Strong bolts between side plates and housing cover and the reinforced hand wheel cover ensure increased stability.
Precision machined guide rollers ensure smooth running of the load chain.
High quality bearings for gearbox, side plates and load chain sheave permit a long service life.
Zinc-plated and yellow-chromated brake parts and guide rollers ensure increased corrosion protection.
Zinc-plated load chain as standard for added corrosion protection.
Options:
Overload prevention device
Chain container
| | | | | |
| --- | --- | --- | --- | --- |
| Model | Capacity in kg / number of chain falls | Falls of Load Chain | Standard Lift Height Mtr | Weight at standard lift (3m) kg |
| VSIII 0,25 / 1 | 250 | 1 | 3 | 3.9 |
| VSIII 0,5 / 1 | 500 | 1 | 3 | 9.0 |
| VSIII 1,0 / 1 | 1000 | 1 | 3 | 11.5 |
| VSIII 1,5 / 1 | 1500 | 1 | 3 | 17.5 |
| VSIII 2,0 / 1 | 2000 | 1 | 3 | 19.0 |
| VSIII 2,0 / 2 | 2000 | 2 | 3 | 17.3 |
| VSIII 3,0 / 1 | 3000 | 1 | 3 | 31.0 |
| VSIII 3,0 / 2 | 3000 | 2 | 3 | 27.0 |
| VSIII 5,0 / 2 | 5000 | 2 | 3 | 43.0 |
| VSIII 10/4 | 10000 | 4 | 3 | 78.5 |
*More lift height options available on request
| | | | | |
| --- | --- | --- | --- | --- |
| Model | Capacity in kg / number of chain falls | Falls of Load Chain | Standard Lift Height Mtr | Weight at standard lift (3m) kg |
| VSIII 0,25 / 1 | 250 | 1 | 3 | 3.9 |
| VSIII 0,5 / 1 | 500 | 1 | 3 | 9.0 |
| VSIII 1,0 / 1 | 1000 | 1 | 3 | 11.5 |
| VSIII 1,5 / 1 | 1500 | 1 | 3 | 17.5 |
| VSIII 2,0 / 1 | 2000 | 1 | 3 | 19.0 |
| VSIII 2,0 / 2 | 2000 | 2 | 3 | 17.3 |
| VSIII 3,0 / 1 | 3000 | 1 | 3 | 31.0 |
| VSIII 3,0 / 2 | 3000 | 2 | 3 | 27.0 |
| VSIII 5,0 / 2 | 5000 | 2 | 3 | 43.0 |
| VSIII 10/4 | 10000 | 4 | 3 | 78.5 |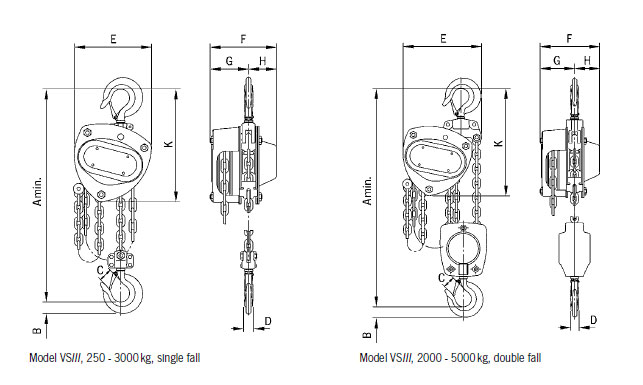 | | | | | | | | | | |
| --- | --- | --- | --- | --- | --- | --- | --- | --- | --- |
| Model | VSIII 0,25 / 1 | VSIII 0,5/1 | VSIII 1,0/1 | VSIII 1,5/1 | VSIII 2,0/1 | VSIII 2,0/2 | VSIII 3,0/1 | VSIII 3,0/2 | VSIII 5,0/2 |
| A min, mm | 290 | 350 | 380 | 450 | 460 | 490 | 570 | 580 | 700 |
| B, mm | 12 | 21 | 28 | 33 | 36 | 36 | 45 | 45 | 47 |
| C, mm | 26 | 23 | 27 | 36 | 35 | 35 | 40 | 40 | 45 |
| D, mm | 11 | 16 | 20 | 22 | 29 | 29 | 29 | 29 | 40 |
| E, mm | 118 | 145 | 158 | 180 | 205 | 170 | 240 | 220 | 250 |
| F, mm | 113 | 140 | 155 | 175 | 180 | 155 | 210 | 175 | 190 |
| G, mm | 65 | 80 | 87 | 85 | 94 | 87 | 110 | 94 | 95 |
| H, mm | 48 | 60 | 68 | 90 | 86 | 68 | 100 | 81 | 95 |
| K, mm | 190 | 240 | 270 | 300 | 320 | 285 | 370 | 340 | 410 |
Related Products